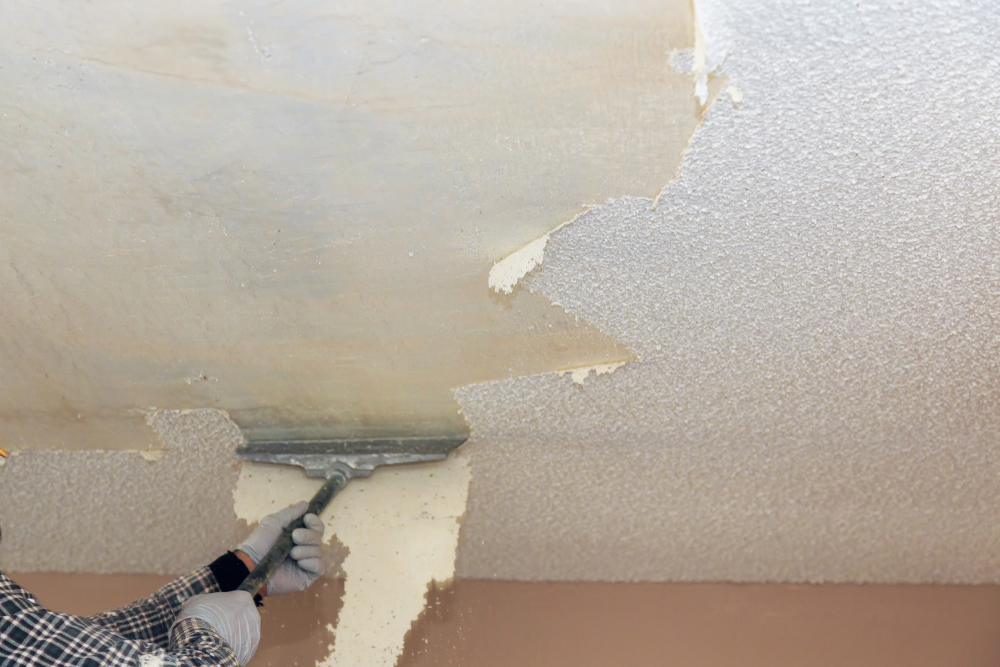 Popcorn Ceiling Removal in Victoria, BC, & the Surrounding Areas
Popcorn ceilings, also called textured ceilings, are a divisive feature in many Canadian homes. How do you feel about your textured ceilings? If you dread looking at them, you're not alone. While some people love their popcorn ceilings, others immediately start removing textured ceilings as soon as they move into a new place. At Drywall Medic, our experienced contractors can do this job quickly and efficiently, so you can get back to your everyday life!
Are you prepared to banish that pesky popcorn once and for all? Keep reading to learn more about what we do for homeowners throughout Canada.
Our Popcorn Ceiling Removal Contractors Are Right Near You!
Drywall Medic specializes in textured ceiling removal and other ceiling & drywall services. While we're highly reviewed for popcorn ceiling removal in Victoria, BC, we don't just help families living in Victoria! These are some other locations we serve in BC:
The Benefits of Textured Ceiling Removal
Not sure why you should change up your ceilings? There are multiple worthwhile benefits to popcorn ceiling removal in Victoria, BC. These benefits include, but aren't limited to:
Improved Indoor Air Quality: Due to the texture of popcorn ceilings, they're hard to clean. This means that dust and dirt particles collect in every little nook and cranny. When you change your ceiling texture, you'll cut out all that dust, dirt, and dander and enjoy healthier indoor air.
More Modern Look: While popcorn ceilings have their place in some homes, not every homeowner enjoys how "dated" they can appear. If you're trying to create a sleek and modern aesthetic for your home, smooth ceilings will greatly contribute to this goal.
Easier to Paint: Smooth ceilings are easier to paint than popcorn ceilings. Even if you don't foresee a DIY painting project in your future, this fact is worth keeping in mind if you ever plan on having professionals change the colour of your ceiling. In some cases, we may even be able to paint your new ceiling to the colour of your choice!
Boosts Property Value: Are you planning to sell your home now or later down the line? Popcorn ceiling removal in Victoria, BC, can make it more valuable and increase its appeal to buyers!
Why You Should Always Call Experts for Popcorn Ceiling Removal Services
Popcorn ceiling repair and removal are tasks best left to experienced popcorn ceiling removal contractors! Here's why you should consider calling Drywall Medic instead of attempting DIY popcorn ceiling removal in Victoria, BC:
When you give us a call, we'll show up with our truck fully stocked with all the popcorn ceiling removal equipment we could possibly need. You won't have to worry about scratching your head in the aisles of your local hardware store or struggling to find what you need online. We have all of the industry-specific tools and hardware to ensure the removal work is done right the first time.
Working on ceilings is dangerous without the proper training and personal protective equipment. Hiring an expert for service eliminates…
the risk of eye damage
the risk of falling from a tall ladder
the risk of inhaling chemicals and insulation fibres
…and countless other hazardous possibilities.
Us having the right know-how for the job saves you time and money. Rather than struggling through a difficult day — or week — of DIY repair, we can often remove your old popcorn ceiling in just a few hours. And because we only hire the best contractors around, there's no risk that we'll cause damage to your home.
We never use anything we wouldn't install in our own houses and only work with the best brands and products in the business. That means you benefit from both great quality and affordable installation prices.